It was a frightening two days in Israel as Hamas and Islamic Jihad unleashed 400 missiles into southern Israel killing a Palestinian contractor who does business in Israel, injuring dozens and terrifying children and their parents confined to bomb shelters. An amazing turn of events, when suddenly a ceasefire was agreed upon stunned all of Israel. How could Bibi Netanyahu agree to this? As Avigdor Liberman, Minister of Defence and the citizens of southern Israel were infuriated by this seemingly cowardly move by Netanyahu, we also knew there are circumstances beyond those on the surface that have caused Netanyahu to walk back the Israel Defense Forces bombardment of striking the terrorists in Gaza. Caroline Glick explains to us what is actually going on.
h/t Breitbart News
A Kornet anti-tank missile hit a civilian bus transporting Israeli soldiers adjacent to Israel's border with Gaza at 4:30 in the afternoon on Monday.
According to the bus driver, 50 Israeli soldiers had alighted the bus just moments before it was hit by the missile. The missile struck while the bus was moving slowly towards a parking lot. One soldier, who was standing next to the bus, was critically wounded in the blast.
Immediately after the missile strike against the bus, Hamas and its partner, Islamic Jihad, 
initiated the largest bombardment
 of Israel they had ever undertaken from Gaza. By late Tuesday morning, the two terror groups had fired more than 400 projectiles into Israel. Fifty Israelis were wounded in the onslaught. One person was killed when a mortar hit an apartment building in Ashkelon. Hundreds of mortars and rockets and missiles were intercepted by Israel's Iron Dome anti-missile batteries. And the government announced it was rushing more Iron Dome batteries to the area.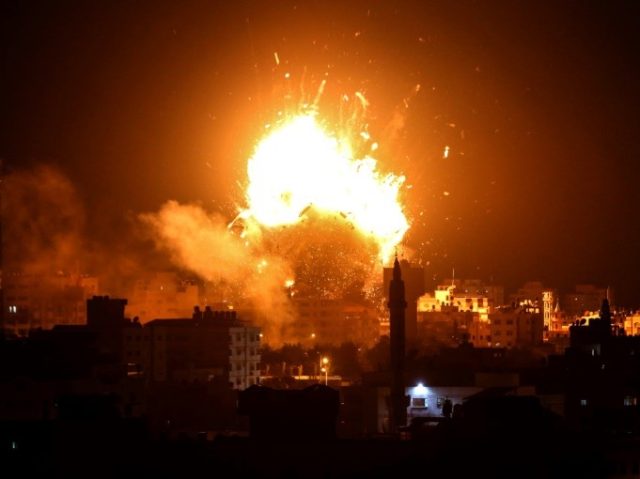 In the hours following the joint Hamas-Islamic Jihad assault, Prime Minister Benjamin Netanyahu and Defense Minister Avigdor Lieberman (who stepped down Wednesday) ordered the Israel Air Force (IAF) to carry out a large-scale air assault against Hamas command posts and other facilities in the Gaza Strip.
In a media briefing, a senior Air Force commander said the IAF strikes since Monday night have been the most far-reaching raids Israel has ever conducted in Gaza. More than a hundred targets were hit in under two hours, he said.
Israel's Security Cabinet, which is authorized to order the Israel Defense Forces (IDF) to open large-scale operations, including war, convened on Tuesday morning. Its final decision was to walk back the conflict and agree to a ceasefire, with no terms.