StandWithUs
Northwest ALERT!
For all StandWithUs supporters and followers in the Portland area, this Monday, May 23, the Portland State University student government will debate and vote on an anti-Israel BDS resolution. The resolution, based on grotesque misrepresentations of Israel, would have PSU divest from companies doing business with Israel.
The meeting will take place at 5 pm in Smith Hall. The Portland Hillel interim director and Israel fellow, is asking for everyone who can to attend and provide support.
You are needed. Members of the wider community can sign up to speak.

We expect that there will be a large turnout of anti-Israel students and anti-Israel community members.
It is extremely important that we show up and rally behind our Jewish and pro-Israel students.
I am a Stand With Us supporter so I attended the meeting of the Portland State University student senate for the Boycott Divestment and Sanctions resolution reading. I arrived
with trepidation, as I had been told there would no security. The anti-Israel crowd all had 8.5" x 11" copy paper signs that said
Equal Rights for Palestinians
on one side and
#PDXDIVEST
on the reverse side.
As I grabbed a chair in the second row from the front (that's me wearing glasses, seated next to the guy in the blue shirt standing) I noticed the woman in the pink shirt in the row behind me waving her "Equal Rights for Palestinians" sign. Another woman in the row behind her grabbed that sign and crumpled it up. The Palestinian protester 'lady' in pink socked her in the arm, yelling "I am Jewish" and the victim of the punch, the paper crumpler, simply sat down without fighting back. I thought, Wow, if that had been me, I would have reacted differently.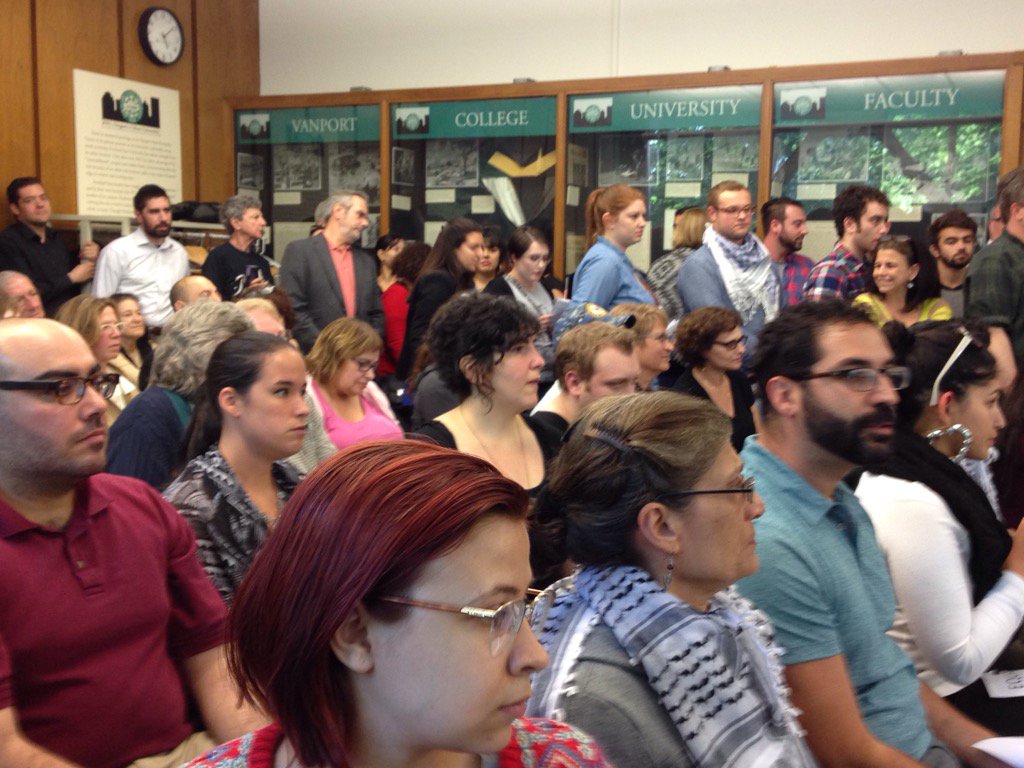 The public debate was aimed at boycotting four American corporations (Caterpillar, HP, G4S, and Motorola) that do business in Israel. The scruffy Boycott Divestment of Israel crowd waved their "Equal Rights for Palestinians" signs and finger snapped during each pro-Israel speaker.
Many of the pro-Palestinian speakers professed their movement to be non-violent. They insisted that their cause does not target the Jewish people but only speaks for the misery of the Palestinians as it applies to these four companies aiding Israel in "human rights violations." For me, it was impossible to believe that such venom displayed by the anti-Israel crowd could not be targeting a Jewish Israel.
The speakers went back and forth with two minutes allowed; one pro-Israel, then one pro-Palestinian. As each pro-Israel person spoke the BDS crowd waved their signs and finger snapped. I had never seen this finger snapping form of disrespect but that is what I would call it.
There was a lot of comparing Israel to the apartheid state of South Africa. A pro-Israel speaker who is a medical doctor that was born and raised in South Africa spoke up about the ridiculous comparison of apartheid, as in Israel there is no segregation of buses, restaurants etc. In two minutes he made a good case regarding the actual integration of Israelis and Palestinians in Israel society. Others also spoke up about the misappropriation of the apartheid comparison.
One pro-Israel speaker said, "Hate is a strong emotion." As I saw it, every pro-Israel speaker basically begged for dialogue and was met by the finger snapping and sign waving of the BDS crowd.
I am glad to see that the pro-Israel students went out and had a good time afterward.
Posted on Facebook today:
"The perfect way to end the evening! Eating great Israeli food after a first BDS resolution reading...it was a crazy long night and thank you everyone who came out to support us!!! Shout out to all the members of the Jewish and Israeli community who showed up tonight in stood in solidarity with our students. A special thanks to
Andy Gitelson
and the students of
The Oregon Hillel Foundation
that stood with us against this resolution. We are so grateful to be part of such a wonderful supportive community!!!
Updates on the results will soon follow.
תודה לכולם
!!!